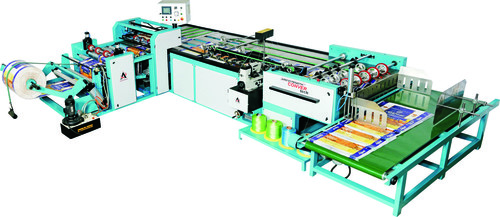 Auto Bag Conversion Line
Product Code : BCS / CONVERtech
Product Description
Auto Bag Conversion Line

Technical Detail

ARM STRENGTH Brand - Fully Automatic Woven Sack Cutting & Sewing Conversion Line/BCS.
UNWINDING: The Unwinding Unit is designed to Easily Lift a woven fabric roll by pneumatic cylinders without any external device.
ACCUMULATOR: To Reserve Extra Length of Fabric opened during continuous unwinding & maintain uniform tension of fabric
I-MARK PROXY: To cut accurate length as per print mark on fabric.
CUTTING Unit: Heat Cut: To cut unlaminated woven fabric with accurate size, which is maintained by Servo System.
Cold Cut: To cut laminated woven fabric with accurate size which is maintained by Servo System.
BAG GRIPPER: To transfer cutted piece of bag from cutting unit to folding device + sewing unit.
FOLDING & SEWING: Folder: Single & Double fold type folders. Which is suitable for all type of fabrics.
Sewing: Most Suitable Model: AS 102 HS "ARM STITCH" Brand – Ginza make sewing machine. Especially designed for auto bag conversion system to get high production. Sewing machine auto switch-off when no cutted fabric is receive from cutting unit.
BAG STACKING & CONVEYOR: The Bags are move after sewing & stack a number of bags which is set as per count. After that conveyor's door will automatically opened when counter bags are finished. Then conveyor is run with exactly countered bags. These all system are synchronizes with automation.
Technical Specifications

Operator

Man power required

Only 1 man power required

Unwinding unit

Diameter of unwinding fabric

Up to 700 kg

Width of unwinding fabric

460 to 812 (18"-32" inch)

Cutting length

460 to 1320 mm(18"-52" inch)

Cutting length accuracy

+3mm

Production capacity

20-35 bags/minute

Cutting unit

Heat cutting knife

Regular/zigzag type high quality with mouth opener device

Cold cutting

Rod less cylinder

Folding and sewing unit

Sewing machine

Model No: AS 102 HS (Arm stitch brand-Ginza make)

Stitching range (in 100mm)

11-14 x Adjustable

Folder

Single fold/Double fold

Folding width

20-30 mm adjustable

Power and pneumatic consumption

Rated power capacity

15 HP

Acutal power consumption

10 HP

Pneumatic consumption

8 kg

Dimension

LxWxH in feet

18x11.5x5.3 in feet

Weight

Net weight

2100 kgs. Approx.
Contact Us
Plot No. 2005, Nr. Trikampura Bus Stop, Phase III, G.I.D.C., Vatva, Ahmedabad, Gujarat, 382445, India